Aurora G Plus...
----------------------------------------------------------------
Recent Ebay purchase (12/27/08)
The following three cars were purchased together as a lot on ebay from Slotemporium...following is the text from the ad:

Surplus to our museum as we do not cater to the smallest of the slot car racing scale, we are now liquidating a collection of scarce cars and parts that used to belong to a very famous racer and sponsor in the 1960's and 1970's. The amounts collected will help to improve and restore the other items in that fabulous collection, those being in the larger 1/24 scale. Many of these items have been updated and tuned up for fast racing with parts obtained from the best tuners from the 1970's.
These Aurora G-Plus Ferrari Daytona RTR cars are in used condition. Please carefully observe the pictures as our knowledge of HO cars is limited. These cars appear to be fitted with non-stock armatures, possibly BSRT, but we are not sure. We have not tested them but they appear to be in ready to race fettle except one is missing a contact blade. One or more may have upgraded front and/or rear tires. Bodies are in fair condition.
Sold as is. Please ask questions before bidding, thank you!.
I asked the seller for some additional information about the previous owner, and this was his response:
"The man was Bruce Paschal, the president of the United Fruit Company. Bruce was instrumental in promoting pro racing in the 1960's and was a major sponsor of 1/24 scale racers. Later, in the early to mid 1970's, he dabbled with HO as raceways were closing. He got stuff from Gary Beedle and other top-notch racers. The good cars, the hand-built T-jets "pan" chassis, were sold in earlier sales. Bruce donated his collection of 1/24 and HO stuff to the LASCM 5 year ago. The LASCM decided to sell the HO stuff as it is not involved in that scale. Bruce is now retired and hopefully playing golf somewhere around Palm Springs. "
Electric Dreams website article
Here are additional pictures and notes as I have had time to examine them....all cars came with the yellow Ferrari Daytona body in various state of repair--missing glass, stickers, mirrors, decals etc...but appearance was not the point.
All three cars have super strong magnets in them. I will measure these with a magnet matcher and compare with a stock G+. They hold the car to a piece of track when turned upside down. They also appear to be hand shimmed. Note car 3 with the "dots" on the magnets..
All three have green wire arms, hard to tell if these are simply a SuperG+ upgrade arm or a specially custom wind. I need to do more research to see what arm was available stock and as aftermarket...
All three cars have very nice rear tires. They all have a nice "tack" to them, not dried out sponge...more like a rubber/silicon material...they also have a decent trueness to them.
All three cars are tuned very low to the track...car number 2 is so low as to rub a little bit....one chassis has been shaved.
Second photo down shows some chassis engraving that I am unfamiliar with....I need to do more research on this...
I sent the cars down to Terry to play with, this is his review....
--------------------
Aurora G+ Racers
Recently, Ron Bernstein sent me the three Aurora G+ cars outlined in the above text that he obtained from an eBay auction. As he points out, the cars have very strong magnets and green wire armatures. At first glance however, the cars simply look as if they have been played with too hard and left out in the cold.
Nothing could be farther from the truth. Quit a bit of thought went into the magnet modifications. The magnets appear to be cut down from a larger size stock and are north/south oriented. If I had to guess I would say the magnets are some sort of low-strength neo material. They look like pieces of polished steel – not like any ceramic or poly material I've seen.
Two of the cars use the standard factory G+ flux collectors to hold the magnets in place. The third car does without and simply uses plastic shims to hold the magnets in place. Because of the third car's mounting system, one can (to a point) adjust the magnets' ride height. The only issue is the magnets holding their positions for an entire race.
Judging from the vintage of the cars and the fact that they retain their original un-coated sponge rear tires, these cars probably were intended to be run on a glued-up track. The cars have a good deal of magnetic attraction but no corner traction from the rear tires. To better determine the handling potential, I swapped out the third car's rear tires for a set of Tom Shepard's Law Breakers silicone coated sponge tires.
Now the car really ran. Although I didn't run any lap times, the car seemed about like a G-Jet in terms of overall track times. Because of the green wire armature, the car has a great deal of acceleration. But even with the increased motor/traction magnets, it is not a Super G Plus or a Wizzard Storm.
There appears to be no other obvious special parts used in the chassis. But from what can be observed, the armatures are shimmed well. The rear axle-to-chassis fit is reasonably good contributing to nice gear mesh.
The original owner's choice of body was probably not random. Having currently run races that spec factory stock Tomy SRT cars, body weight is critical. The original Aurora G+ Ferrari Daytona body is probably the lightest and lowest center of gravity body one can run. They are fragile however as evidenced by the lack of 'glass' in two of the examples.
All in all I can say the original cars' owner had it figured out for the class he was racing in 'back-in-the-day'. The tricks he applied here could easily be replicated today for those of you with a bit of tinkering motivation. Not that we are going to be creating another class of racing… .
Race More Riggens,
Terry Flynn
--------------------------------------------------------------------
Car 1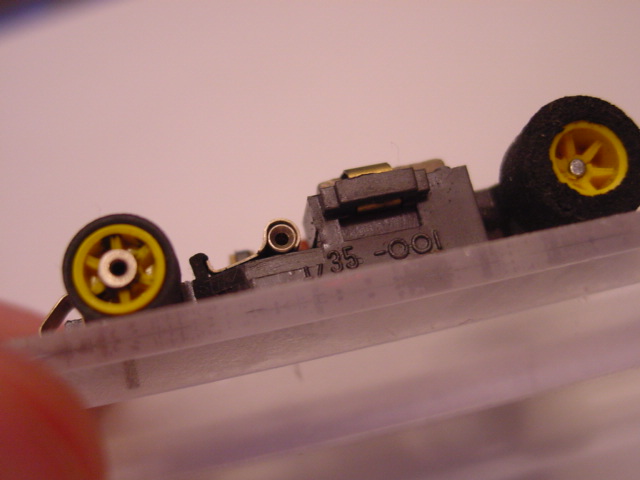 Car 2
Car 3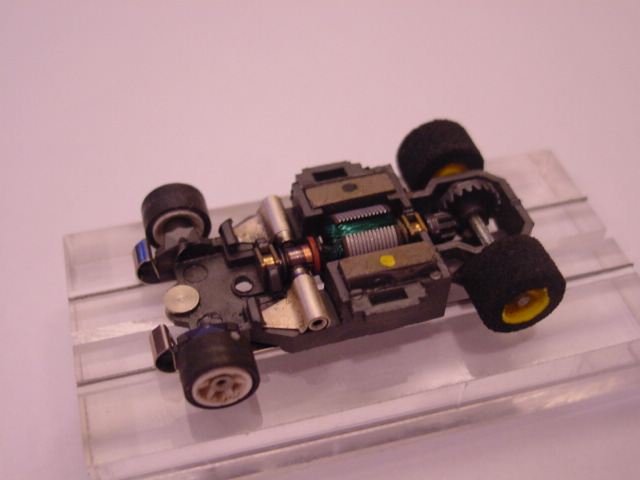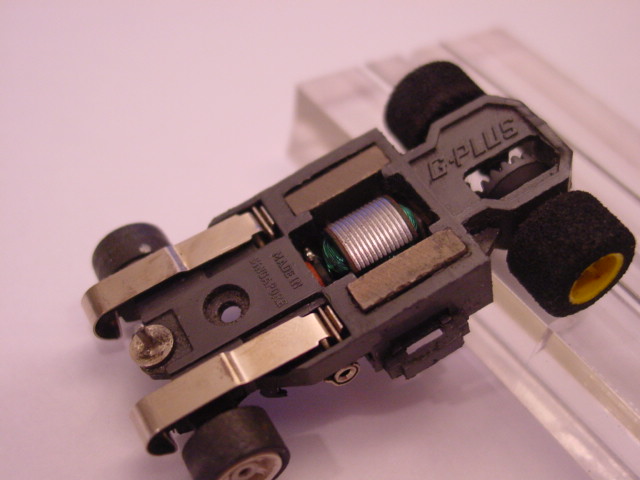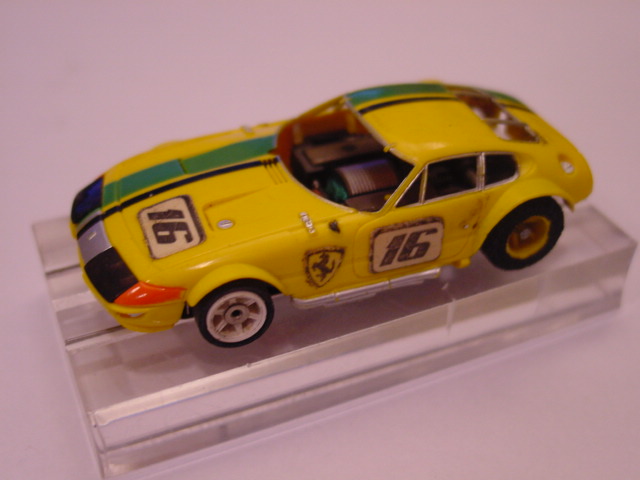 More information about these cars, and especially the magnets...(from Bob Dame)
Taking a look at the pictures of the old G+ cars that you have, I can tell you that those cars you had with the different magnets had the old cobalt 'slab' magnets. Cobalt (or rare-earth) magnets were the strongest available at the time until the introduction of the Neo material later on. In fact, the first HOPRA Nationals that you supplied the picture for in 1975, was won by Steve Brown with cobalt magnets in his magna traction car. The problem was, nobody else knew about cobalt magnets at the time, so it was one of those 'unfair' advantage type deals. Steve had them disguised and didn't tell anyone about them and it wasn't until later when some other folks found cobalt on their own that they figured out what he was up to.
The stronger magnets were a significant improvement in the G+ cars and needed a much faster armature to push them around the track. Hence, the use of a 'green wire' armature in those cars. The green wire arms were probably just taken out of a 'can' motor that had them in them.
I still have a bunch of those green wire motors. The green wire arm; still around today and often referred to as a 'mean green arm' or something similar, had about half the ohm rating of a standard stock motor (about 3.5 ohms compared to 6.2 for a stock motor). Those particular armatures look like they were right out of the can, and not a worked up aftermarket item. Gary Beedle (BSRT) did sell a 'worked up' version, but that would have had a wrapped comm. and other easily seen characteristics that I don't notice in those pictures.
The "Blue Streak" BSRT arms show up on ebay every once in a while...
The cobalt G+ cars were run for a couple of years until they were deemed too fast, and then they went back to racing ceramic magnet cars. I believe that the youngest HOPRA National Champion was Mark Jones in 1978 in a cobalt car. He won because everyone else blew up and he was the last one left running.
-----------------------------------------------------------------------------------------------------------
links:
hoslotcarracing.com....good section on G+ and has many replacement parts as well as hop up parts...
hoslotcarbodies.com--here is a very nice pro style G+ build...
-----------------------------------------------------------
info:
1976
1978 Super G+
wheel colors, orange magnets, diffs between G+ and SuperG+, AW ads for hop ups, Kemp Car, armature differences, magnet hop ups, body styles, packaging us and Euro and others??
performance tuning in the day
Terry's friend dave:
Yep, The old G+ is a good reliable chassis with some good features. They
handle pretty well once they are set up. You have a small amount of
magnet adjustment you can raise and lower the magnets by bending the
magnet locating shims to suit whatever track you may be using. And the
independent front wheels are also a good feature. The chassis you showed
me are the earlier versions.
The later G+ had a snap in rear axle and are quite sort after! Like all old AFX chassis there is always an inconsistency with the motor windings it seems, and I have found that out of a dozen or so chassis there will be one that just sticks to the track and really hauls the mail. These are the chassis that find there way into my collection and all you really need to do is replace the brushes with brushes with a higher silver content(I use Tyco brushes and springs, Tyco springs are a tad too long but work fine. No
bounce) and they are good to go!
Now that I have said all that! Most of my G+ cars and chassis have gone now(because of the vintage Tyco bug I caught from you) and I have replaced them with Supermagnatraction chassis which are just rocket ships compared to the older G+. The arms pull harder than the G+ and the chassis still retains all the features of the earlier G+. Movable magnets and independent front wheels.
Hope this helps. I'm off to paint and assemble some more of those sexy alloy wheels and fit them to some cars. Watch this space!
Cheers Dave.
------------------------------------------