Campagnolo Brakes
(updated 10/2011)
I purchased this set of brakes 7/2011 ebay:
Italian Campo front end: You will need to get a set of bearings, an internal spacer as well as a set of outer spacers (the bearings you can get from Motion Industries and the spacers can be cut from stock very easily). I am including an axle that needs to be cleaned up and have an old spacer tapped off and other then that just lace the wheel up and your set.
UP FOR SALE IS AN EXTREMELY RARE CAMPAGNOLO MECHANICAL DUAL DISC BRAKE ASSEMBLY AND 35MM. MARZOCCHI (SUPER IDRAULICA) COMPETITION FORKS. I MUST FIRST START OUT BY SAYING THAT ALL THE PARTS IN THIS AUCTION ARE NEW OLD STOCK AND HAVE NEVER BEEN MOUNTED OR USED BEFORE! THE CAMPAGNOLO DUAL DISC SETUP IS COMPRISED OF A 5.25 INCH HIGH FLANGE HUB THAT CURRENTLY HAS A NEW AXLE AND BEARINGS IN IT FOR A BSA OR TRIUMPH FORK BUT CAN EASLY BE REMOVED AND REPLACED WITH THE CORRECT BEARINGS AND AXLE TO BE USED WITH THE MARZOCCHI FORKS. THERE ARE ALSO A PAIR OF 10 INCH DISCS WITH LOCKING NUTS/BOLTS AS WELL AS A CAMPAGNOLO BRAKE LEVER WITH WHEEL BALANCER TOO. THE MECHANICAL CALIPERS USE A PAIR OF 1 1/4 INCH ADJUSTABLE PUCKS AND COME WITH A SET OF VERY NICELY CRAFTED (BY CAMPAGNOLO) CALIPER MOUNTS THAT ARE SPECIFICLY MADE FOR THE MARZOCCHI FORKS IN THIS AUCTION. FINALLY I AM ALSO INCLUDING A SET OF MARZOCCHI SUPER IDRAULICA 35MM. FORKS THAT ARE 30.5 INCHES IN LENGTH AND ARE ARE AS STATED NEW OLD STOCK AND ONLY SHOW A FEW MINOR SCRATCHES FROM TIME SPENT IN AND OUT OF STORAGE. THESE FORKS COME WITH A STANDARD SET OF PERIOD TRIPLE CLAMPS BUT I DO HAVE IN ANOTHER AUCTION A BEAUTIFUL SET OF YAMAHA TR2 TRIPLE CLAMPS THAT ARE THE SAME WIDTH THAT ALSO TAKE 35MM. TUBES (THIS IS WHAT I WAS GOING TO USE IN PLACE OF THE STOCK MARZOCCHI CLAMPS). PLEASE EMAIL ME WITH ANY QUESTIONS THAT YOU MIGHT HAVE. THANK YOU
-------------------------------------------------------------------
In October 2011 I saw an amazing Egli-Vincent on this Vincent website (thevincent.com) and noticed the same brakes (front and rear actually)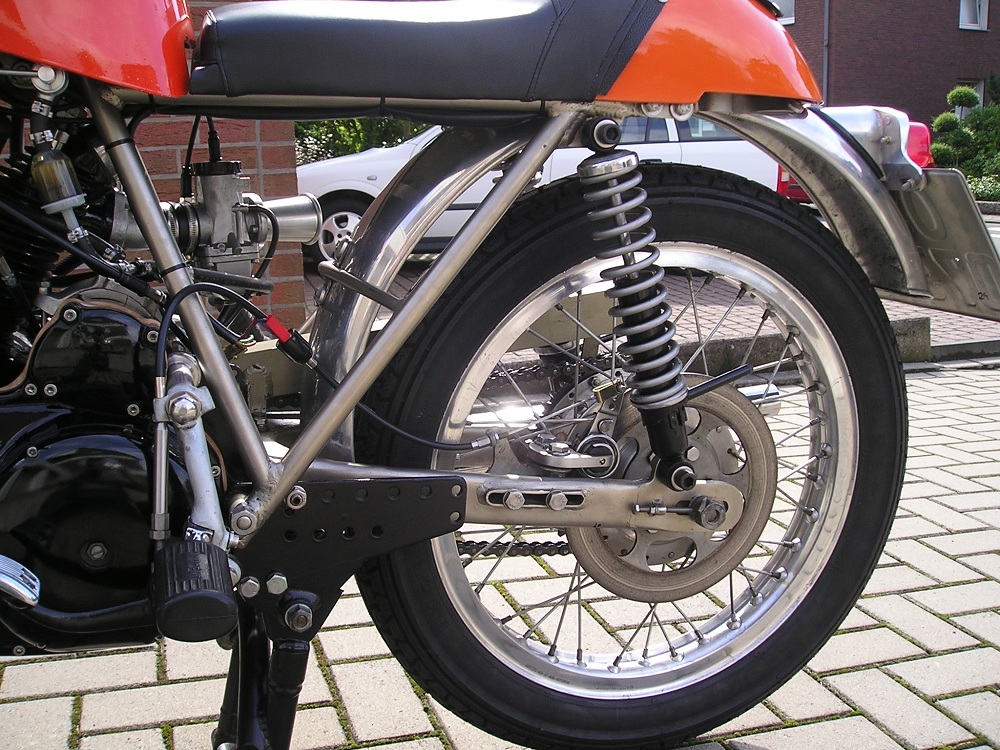 I corresponded with the builder (Vince Lonsdale) who provided the following info and these pictures:
From: Vince Lonsdale [mailto:vinmad@arcor.de]
Sent: Tuesday, October 04, 2011 8:22 PM
To: 'Ron Bernstein'
Subject: AW: vincent website

Hi Ron,
Yes, your set looks identical to what Fritz built onto the original eglis.
Even the rear brake (in the background of your photo) is the same. Looks like fritz made the swing arm to suit?
I spent 6 months trying to get info and spares for these brakes, no luck. Even campagnolo could not be of help (I just know that in the deepest darkest corner of their store, there´s a box full of em!!! ?.
The brake pads I had to make from scratch, and I wasn´t sure how the cables should be attached so I took the safe route and followed standard practice.
Something that worried me was the optimal working angle cable/brake-arm is not reached until the pads are down to metal ?
The hubs are a work of art with the raised shoulder in the middle and the producers name cast in, in fact the whole setup is very well made.
Shame the brake pads on my mountain bike are bigger ?
I´ve convinced Thomas to fit other brakes to his Egli if he uses it a lot. It would be a real shame to wear the originals out knowing that no spares are available.
I know someone who raced in the late 60´s early 70´s with these brakes, and he doesn´t speak to highly of them ?
To the right person, they are worth their weight in gold and very rare. (most of the owners threw them away and fitted large drum brakes I believe)
Any chance of some close-ups of the arms/cable attachments?
Thanks
----------------------------------------------
Here are the additional pictures of the set up I have: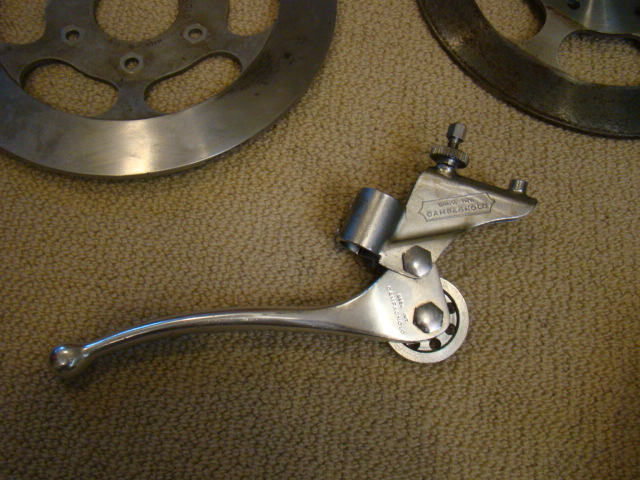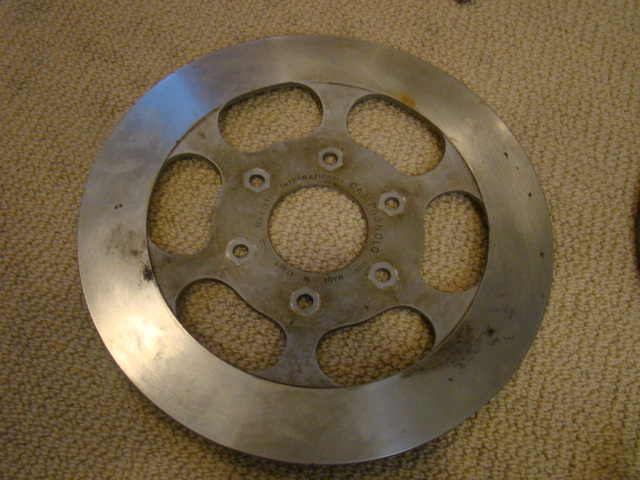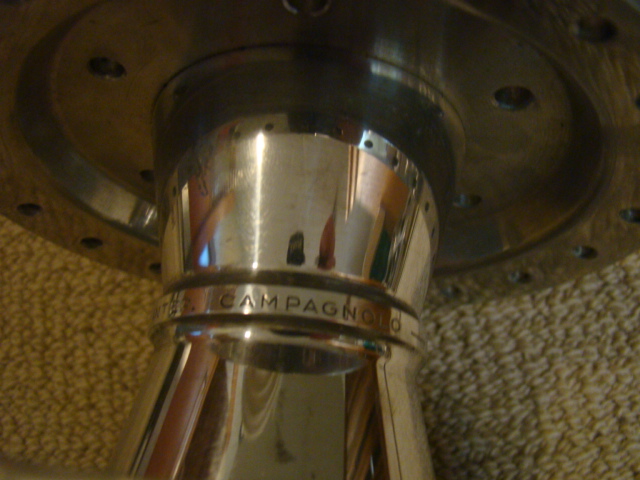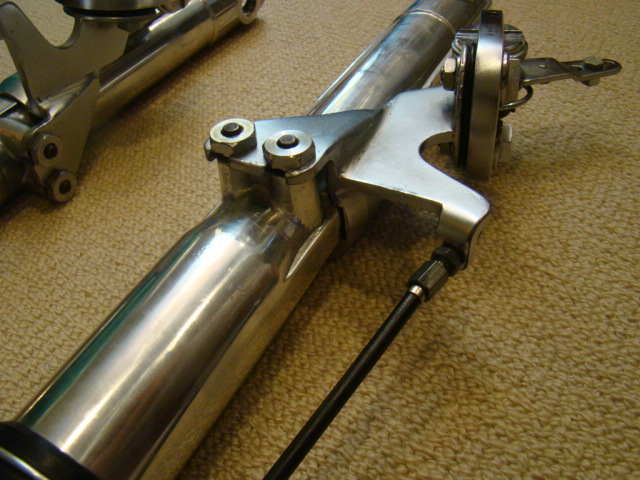 ---------------------------------------------------------------------
Random pictures found on the web.....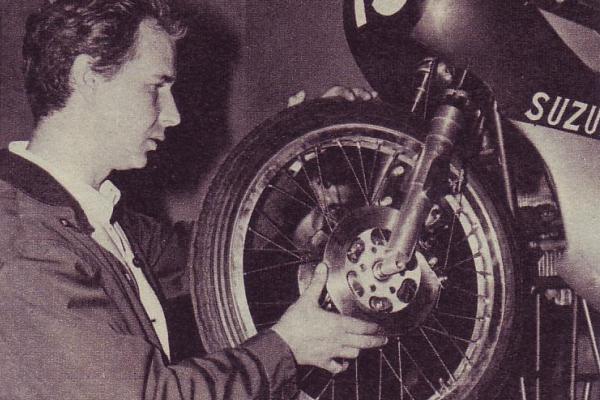 These were manufactured from approximately 1964-1968 and then became hydraulic. Their use was limited and therefore rare. They were seldom seen on production motorcycles and were sold for aftermarket use on custom racing and street motorcycles. The brakes and hubs are made to the same standards as the Campy bicycle components--everything is lovingly machined and polished. It is triple disc, two front brakes and one rear--the rear brake is seldom seen making it very special.